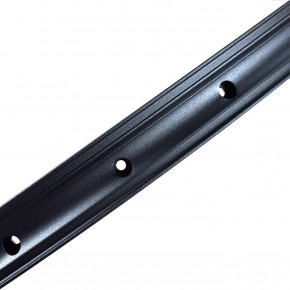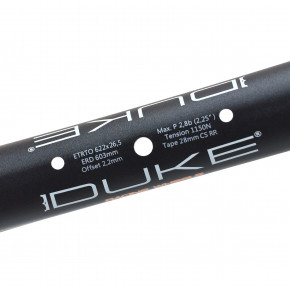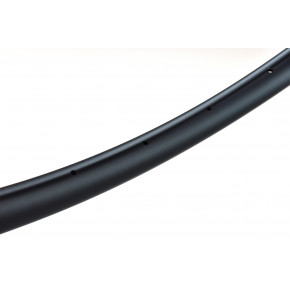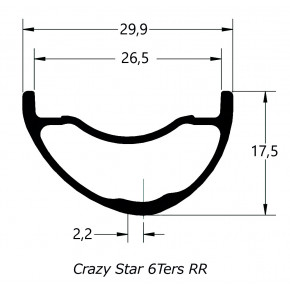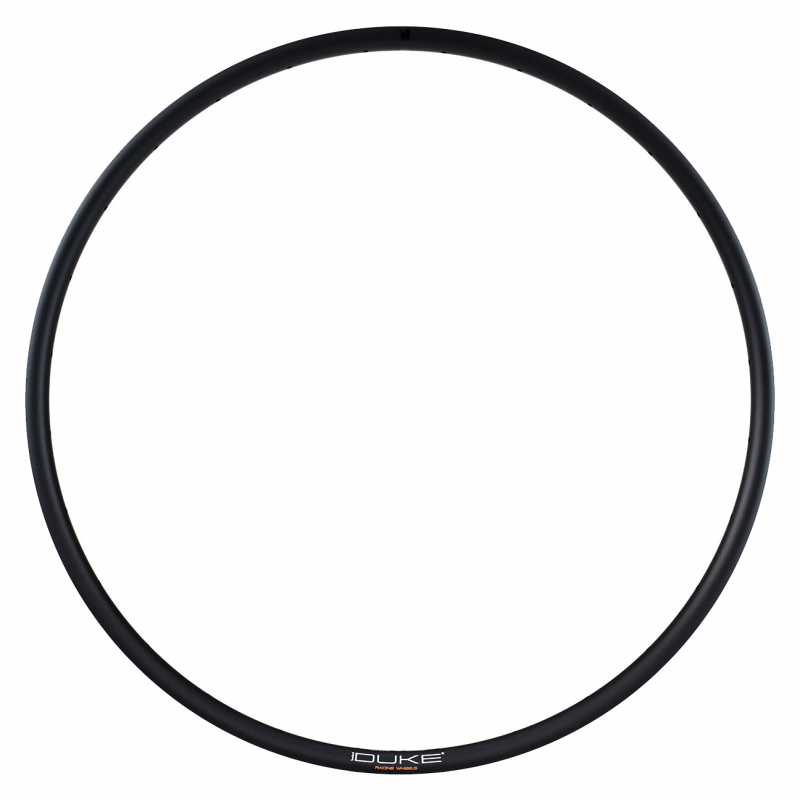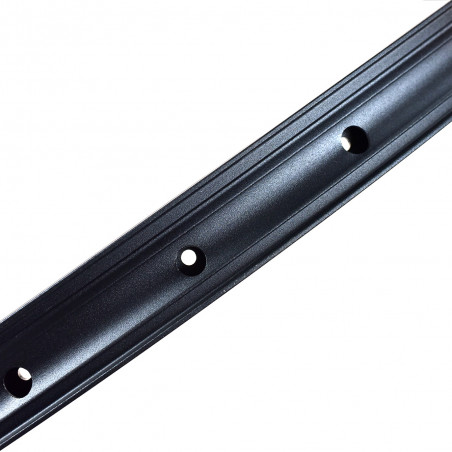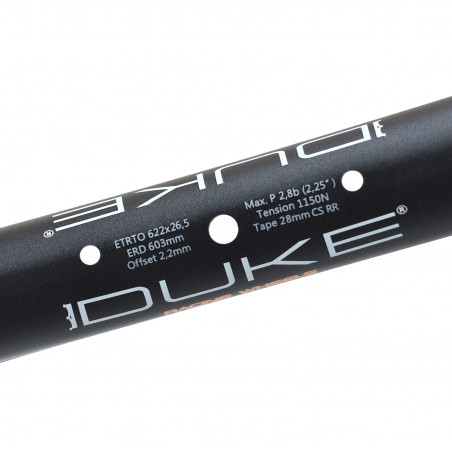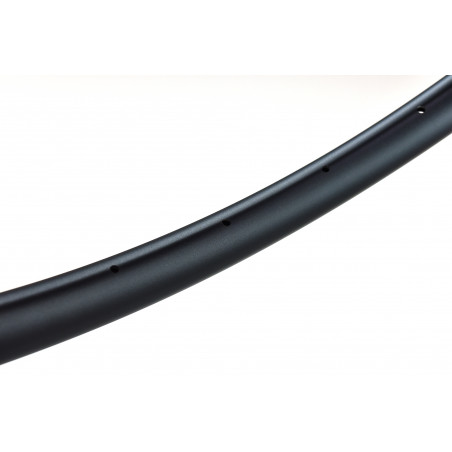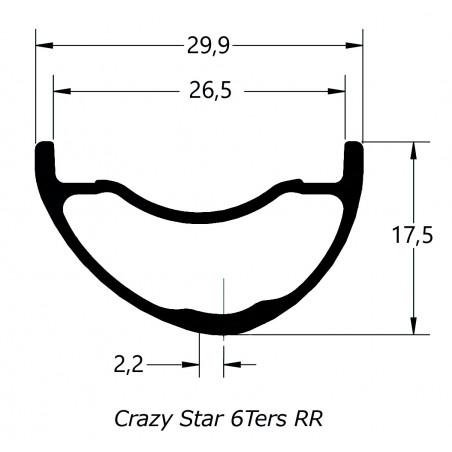 * The colors of the products displayed in photos may vary from one screen to another depending on their calibration.
DUKE RIM CRAZY STAR 6TERS REAR
DUKE RIM CRAZY STAR 6TERS made for Trail and All Mountain.
Points Forts
SOLIDITY

ASYMMETRY

LATERAL RIGIDITY

COMFORT

PRECISION PILOTAGE

NERVOSITY
Aluminium rims, versatile made for Trail and All mountain, recommended on supple path.
DUKE RIM CRAZY STAR 6TERS* 
Rim made for Trail and All Mountain. On its wheels DUKE is the exclusive owner of the production tools. It offers a very good lateral rigidity and a very high internal width to improve the behavior of the tire. It is recommended on all types of terrain.  The DUKE Crazy Star 6Ters rim is wider at the front of 3mm and 1.5mm higher. It have an asymmetrical profil (2.5mm offset) Which makes it possible to increase the lateral stiffness of the wheel without gaining weight. The holes in the rim are off-centered, this makes it possible to close more the umbrella formed by the Spokes. Thus the spokes ensure a better maintenance of the rim and the lateral stiffness of the wheel is increased. The risk of sailing is also decreased. Moreover, this device makes it possible to further balance the tensions of the rays between the two layers and thus guarantees a better durability of the wheel The internal size between the large brackets is 29.5 mm.
This gives more volume to the tires and thus improves the efficiency, the comfort and the grip in the corners. A wide rim also means that you can use the finer and lighter tires while maintaining the comfort, softness and grip provided by a larger volume of air. Larger tires would offer even more volume of air as they are heavy and not very dynamic. The best combination tire / rim is achieved when a tire is finished mounted on a wide rim. The tire becomes larger. This combination also reduces the rolling phenomena of the tire under the rim in the changes of bearings. With a narrow rim and a wide tire, the rim floats from one side to the other of the rim without holding. Using a wide rim and a thin tire, to minimize the floating phenomenon and on the behavior and control of the bike.          
In 2019, MTB rims profiles are differentiated as we do not ask the rims the same qualities while riding :
A front wheel must give grip, be light, stiff and handy.
A rear wheel must be more comfortable, tronger and offer more efficiency.
Thus the front and rear wheels have different profiles and lay-ups.
In collaboration with Julien Absalon, the 6TERS front and rear profiles complement each other for a greater efficiency in the trails.
Many of you are aware of different needs because you are already using different section tires at front and rear wheel.
The Duke 6TERS* concept offers a wider front rim than the rear rim for more grip and stiffness. Its weight is optimized for robustness.
The rear profile is reworked with a reduced section to improve increase the impact resistance, the constraints being much more important on the back wheel. (*6TERS = sisters = sœurs)
Data sheet
RIM MATERIAL

ALU

RIM PROFILE

ASYMMETRICAL

INSIDE WIDTH (MM)

26.5

PRACTICE TYPE

AM

TYPE OF BRAKING

DISC

MAX STRAIN (N)

1150.0

NIPPLE POSITION

EXTERNAL

NIPPLE HEIGHT (MM)

14.0

REINFORCED RIM

NO

TYPE OF TYRE

CLINCHER
TUBELESS

POSITION

FRONT
REAR

VALVE HEIGHT (MM)

34

TAPE WIDTH (MM)

28.0

MAX PRESSURE (BAR)

2.8B WITH 2.25" TYRE

ERD JANTE(S)

CS RR : 603

SYSTEM MAX WEIGHT (KG)

120

RIM HEIGHT (MM)

17

ETRTO (MM)

622.0

RIM OFFSET (MM)

2.2

MOUNTING WITH WASHERS

SUR VAE (PILLAR 7048)

TYRE SECTION RANGE

36MM 1,40" / 64MM 2,50"

STICKERS RANGE

DUKE SERIE2 L

TYPE STICKER

L45

WARANTEE

2 YEARS
Supplier info
3701517700304 3701517700311
Fast delivery and careful
International delivery
Delivery by Chronopost
Secure payment
1 other product in the same category: