DUKE LUCKY JACK WHEELS TEST
Winner of the great comparison of Vojomag wheels
The multiple champions of the World rim with Titouan Perrin-Ganier and Pauline Ferrand-Prévot, Europe and France! Used by the best teams and riders in the world (Absolut Abasalon BMC Racing Team, Team Scott Creuse O2, Velcan MTB Racing Team etc ..., as well as a certain champion of the Netherlands on Road, MTB and CX and also CX World Champion.
Pauline Ferrand-Prévot : XC World Cup 2019 in Snowshoe (USA)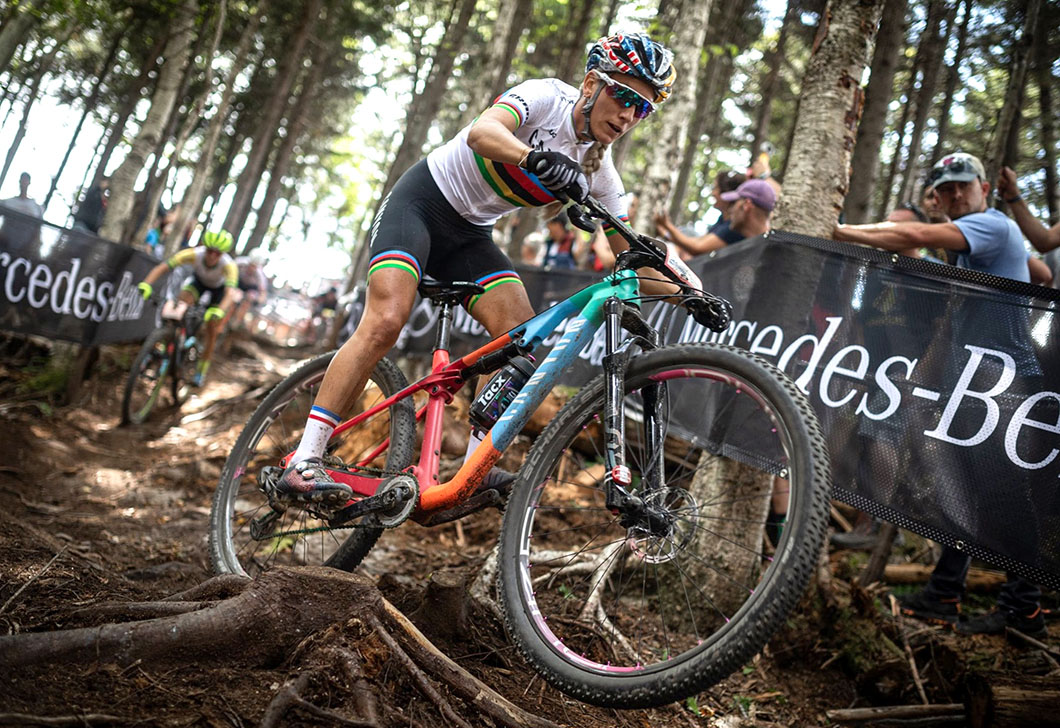 CYCLIST TEST n ° 23 April 2020

All Duke wheels are designed on the premises of the company, based in Vendée (FRANCE). It designs aluminum and carbon wheels and it should be noted that the carbon rims, even if they are made in Asia, are made in molds that Duke owns. The brand is doing well since it has just reinvested in a dozen molds in its Chinese factory. These Road Runners are delivered original
with a valve for tubeless mounting.
My everyday wheels are Enve SES 3.4 Disc, with very good carbon rims. The comparison benchmark was therefore high. First of all, I appreciated the comfort of the Dukes, the aluminum bringing an undeniable advantage compared to the carbon, and this without significantly affecting the stiffness. Duke alu are nervous wheels that allow you to easily revive when changing direction or when attacking a climb. No problems during the spoke or bearing test. When mounting to the card, Duke chose reliability with Sapim CXRay spokes and DT Swiss DT350 CL hubs which are very reliable and make no noise. The 30 mm profile (the model is also available in 23 mm height) increases inertia and gains in average speed on flat routes. Paved with benchmark tires (the GP 5000, in 25 mm), these Road Runner 30 Discs really amazed me. I tested them over 1,000 km and found them to be very versatile.
They also have a big advantage: a very low price!
To conclude, available in rim or disc braking, the Road Runner 30 is an excellent product, of a very correct weight, comfortable and with a very satisfactory rigidity. They also display excellent value for money. Duke offers in addition to personalization (shelves, nuts, stickers) to match with the color of your frame, all this by making a French SME work. What more ?